Profile
Results
We work with you on a personal level to determine the best solutions for your unique needs, then leverage our seasoned expertise to achieve the best possible results.
Relationships
We are your trusted partner in success. Our firm is large enough to offer a full range of professional services at a fair price, but small enough to give you the individual attention that you deserve.
Relief
Rest assured that when a need arises, our firm is ready and capable to handle everything for you so you can focus on what matters most to you.
Staff Profiles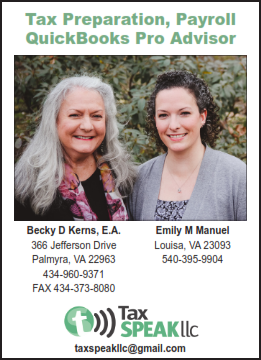 Tax Speak is a full service, local tax firm that can handle all your personal and business tax needs or serve as an accounting partner for your small business.
Becky Kerns, an IRS Enrolled Agent and the owner of Tax Speak, has 30 years of commercial banking experience, and has been in the tax business for more than 15 years. Becky lives in Lake Monticello with her husband. She is a loving grandmother of seven grandchildren, and a mother of two—one of which is her business partner, Emily Manuel.
Emily lives with her family in Orange, and prepares returns for clients in Louisa and Orange. She is an IRS Enrolled Agent and boasts 10 years of bookkeeping experience. She has experience in a variety of industries and knows how important bookkeeping and tax returns are for many different and unique businesses.
Becky is not only a specialist in small business taxes, she also is a QuickBooks Pro Advisor. Having a QuickBooks expert can be very helpful for small businesses who are growing and having more complicated accounting needs. Also, she is currently studying to become a registered Social Security Analyst.
Tax Speak offers many services including:
monthly reconciliations
accounting software selection
business consulting
sales tax services
tax preparation
wage levy
late/unfiled tax returns
payroll services with direct deposit
Tax Speak has the experience that can accommodate any of your needs, while providing a personal atmosphere when filing with the firm, or using their accounting services. This allows you to focus on what matters most to you, while Tax Speak does the hard parts. Tax Speak specializes in small businesses, but can help any individual tax filer that needs it including families, single moms or dads with one income, younger generations, older generations, and anyone else in need of a quality service.
To work with the Tax Speak family, email taxspeakllc@gmail.com, or call (434) 996-9371. For any other Tax Speak questions or to learn more, visit the Tax Speak website: taxspeakllc.com.